Start you vehicle with an app on your phone! Unlock , Lock, or Start your vehicle from anywhere you have cell service in the US. We have complete solutions for almost any vehicle, call 402-393-2100 to see if your vehicle is compatible with Compustar Drone by Firstech!

About the Compustar Drone Remote Starter
This remote starter is ideal for situations where your vehicle is parked in a parking garage or other areas where using a traditional remote start wont reach. The range of this remote start is anywhere where both the phone and the vehicle have access to cell phone service. A small device is placed right along side the remote starter that tells the remote start to start your vehicle when the device receives a signal via cell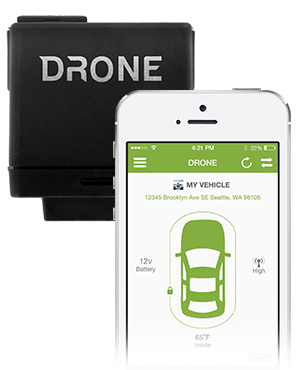 phone to do so. You can also lock and unlock your doors by the phone app as well. This could prove extremely handy if you were to lock your keys in your vehicle. You cold simply use the app or a PC to unlock your vehicle instead of calling and waiting for a locksmith.
Works with iphone and Android
Ava liable in the app store and Google store for free download. Must have device installed in your vehicle for the app to function.
Expert Installation
Our expert team of technicians integrate this system into your vehicle at your choice of 2 locations.
7425 Dodge St in Omaha NE
20330 Veterans Dr in Elkhorn NE
Satisfaction Guarantee
Our lifetime warranty and expert staff will guarantee you are completely satisfied with your remote car starter purchase and installation.
Reviews
Lisa - 2 APR 2018
"Love my Drone remote starter. I use it almost every day as I get ready for work. I start my car in the bathroom and get a notification right on my phone that my car is warming up!"
Chris - 15 SEP 2018
"Works flawlessly. I park pretty far away and my car is always up and running when I get to it"
Aaron - 18 DEC 2018
"Bought for my wife since she works at the hospital. Works great. Highly recommend. Doug was awesome at showing us how to use it."
Recent Posts
The Possibilities are Endless...Fully Active, 2-ch. Remote Level Control / Line Driver with Pass-thr …

We are the Ford F-150 Experts! If you want a simple subwoofer upgrade, an entire audio upgrade …

Attention Jeep JK and JL owners. Well here it is guys and gals, the long awaited Wrangler JL dash ki …