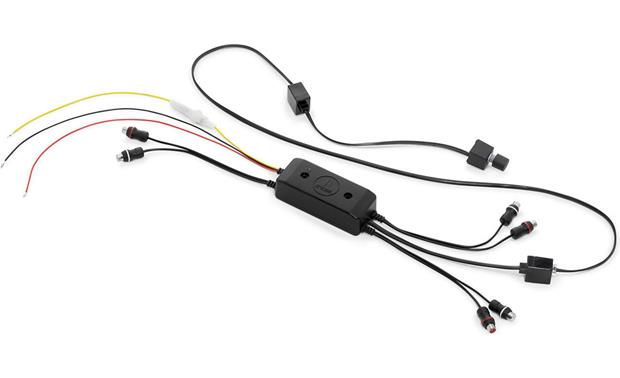 The Possibilities are Endless...
Fully Active, 2-ch. Remote Level Control / Line Driver with Pass-through Outputs
Well what does that mean?
Remote Level Control
The remote level control ( the "bass knob" as we like to call it ) lets the user control an amplifier ( usually the Subwoofer amplifier ) with a separate know that our installers put in easy reach for the driver. This allows the driver to turn up and down the subwoofer separately from the rest of the audio system, So when you want a lot of bass, crank it up, otherwise turn in down a little.
Line Driver
7.5V Line Driver gives maximum input to your amplifiers for a rich clean signal to start with. This means your actual amplifiers have to work a little less for the same result to your ears!
Pass-through outputs
The pass-through outputs give you an extra set of RCA's for your other amplifier to take advantage of the 7.5V line driver as well. Hey might as well take advantage of that huh!
What JL Audio has to say:
The CL-RLC is a true, active level control preamplifier which can be used for subwoofer level control or as an audiophile-grade, full-range volume control. The CL-RLC's differential-balanced inputs minimize the likelihood of noise, while its very healthy preamp design delivers up to 7.5 VRMS of unclipped output to your amplifier. Unlike cheap, passive line-level controls, no signal passes through the CL-RLC's control cable and knob. Instead, the control knob only sends volume level signals to the preamp circuit in order to maximize fidelity and minimize the possibility of noise.
Subwoofer Level: By inserting the CL-RLC in-line with any signal feeding a subwoofer amplifier, you can control the subwoofer level from the front of the vehicle using the supplied control knob. Another important feature is a buffered pass-through connection so that you can also pass signal along (without volume control) to a satellite amplifier from the same input channels.
Full-Range Volume Control: Since the CL-RLC uses top-quality active circuitry, its application is not just limited to subwoofer duty. It can be used whenever and wherever you want to have volume control over any line-level signal. For example, you can use it to control a center-channel level, rear channel levels, or even the level of an iPod® input directly to an amplifier. The possibilities are endless and will enable very interesting things to be accomplished in a wide variety of systems.
Recent Posts
The Possibilities are Endless...Fully Active, 2-ch. Remote Level Control / Line Driver with Pass-thr …

We are the Ford F-150 Experts! If you want a simple subwoofer upgrade, an entire audio upgrade …

Attention Jeep JK and JL owners. Well here it is guys and gals, the long awaited Wrangler JL dash ki …